There's nothing quite like a home cooked meal, and for those who enjoy cooking in the outdoors while camping or hiking, there is a great solution available. Solar stoves and solar ovens are great additions to survival shelters or for those who want to cook on their camping and hiking trips, instead of relying on pre-packaged or freeze dried meal options.
---
What is a Solar Cooker?
Good solar powered cookers will reach high enough temperatures to cook almost anything you want, whether it be meats, fish, cakes, or breads. The temperature of these ovens can reach high enough temperatures to allow you to cook food quickly, at times just a bit longer than a stovetop or traditional oven, or you have the option to cook your food slowly, with a likeness of a slow cooker.
---
How Does a Solar Cooker Work?
A solar power oven works by capturing the sun's rays and using high quality aluminum reflectors or material to surround the box and absorb the warmth. By doing this, it causes extreme temperatures within the box, creating an oven like environment that cooks your food and allows you to create delicious meals without the use of electricity – perfect for camping and wilderness expeditions!
---
Best Solar Oven Reviews
Here a few different types of solar powered ovens and stoves will be discussed, listing the pros, cons, and price points of each product. At the end of the description, there will be a bulleted list that brings to light some of the more important points, allowing you to compare the items to find which one would best suit you.
These bullet points include:
Type: What each product is categorized as
Size and Weight: The size and weight of each product
Temperature Range: What temperatures each solar oven or stove is capable of reaching
Includes Cookware: Whether or not the oven comes with cookware
---
All American Sun Oven Review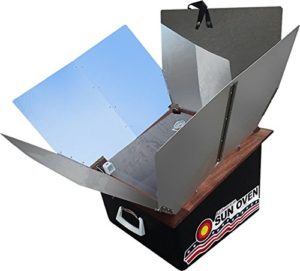 The All American Sun Oven is a large sun powered oven that is made in the United States. The box, which costs about $298, is one of the most popular brands of solar cookers available.
The solar camping stove can reach temperatures up to four hundred degrees Fahrenheit, and the company has been around for over twenty-eight years, creating high quality solar cooking devices. Since this solar oven is a bit larger than its predecessors, it can easily fit traditional sized cook wear with ease.
The oven is wind resistant, and the aluminum panels that absorb the sunlight to allow for cooking are rustproof and highly polished, giving the solar oven a nice overall appearance.
The light weight design and carrying handle add to the ease of use for this solar oven. The oven can act as a slow cooker, or cook your foods within twenty minutes of conventional oven times.
Type: Solar Outdoor Camping Oven
Size and Weight: Size: 24 x 15.5 x 20.5 inches, Weight: 22 pounds
Temperature Range: 360 to 400 degrees Fahrenheit
Includes Cookware: Yes
---
GoSun Sport – Easy-to-Use Solar Oven Review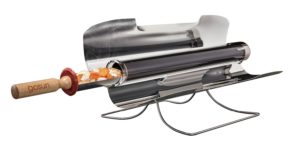 The popular GoSun Sport Easy to Use Solar Oven can cook meals quickly within the specialized heating tube that attracts and absorbs sunlight to make delicious and nutritious meals for you and your family.
This incredibly portable oven sets up in seconds and allows you to get cooking, and is great for taking camping, hiking, or on wilderness adventures where you will not have access to electricity.
The GoSun Sport is a smaller oven, and can only cook enough food to feed two people at once, so a family might need more than one in order to make meals for everyone.
The oven takes only twenty minutes to create delicious food, and comes with a stainless steel cooking tray for the food to be placed. After the food is placed in the tray, the stainless steel shields wrap around the sides and absorb sunlight, properly cooking your meal.
At $279, this oven is a little steep in price, but the features and the ease of portability are perfect for those who spend a lot of time outdoors.
Type: Solar Outdoor Camping Oven
Size and Weight: Size: 24 x 5 x 8 inches, Weight: 2.5 pounds
Temperature Range: Can reach high temperatures of 400-500 degrees Fahrenheit.
Includes Cookware: Yes
---
Sunflair Portable Solar Oven Deluxe Review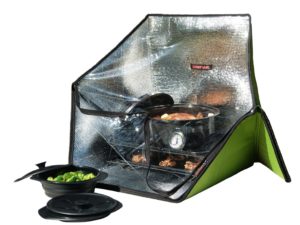 The Sunflair Portable Solar Oven Deluxe, which is a very nicely priced oven, at only $155, is an incredibly versatile oven that gives you plenty of options and is great for preparing meals outdoors!
This lightweight oven is easy to store, making it an ideal choice for RV and camper usage, survival and emergency shelters, and is easy to set up and store, only taking seconds to set up and get cooking! The oven can also be used as dehydrator for drying fruits, vegetables, and meats. The oven comes with a set of cookware specific to the oven, so that you always have the proper tools to create a freshly cooked meal.
This solar stove can also be used for drying clay and creating candles, which would be a helpful feature in an emergency situation. Another added benefit to purchasing a Sunflair Portable Solar Oven is that the company will donate proceeds from the sale of the oven toward making the world a cleaner, greener place.
Type: Solar Outdoor Camping Oven
Size and Weight: Size: 19 x 15.5 x 2 inches, Weight: 4.2 pounds with cookware; 1.2 pounds for oven alone
Temperature Range: Can reach up to 285 degrees Fahrenheit
Includes Cookware: Yes
---
SOLCOOK All Season Solar Cooker and Trivet Review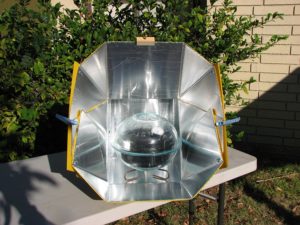 This solar cooking device has a $100 price tag and comes complete with a trivet for sitting your cookware on top of. This oven is one of the most portable on the market, folding down completely to allow for easy transportation to a campsite, emergency shelter, or even to store in the back of your vehicle after a day of cooking.
The oven itself a box and panel hybrid, allowing users to enjoy the best of both solar box ovens and solar panel ovens, and the SOLCOOK All Season Solar Cooker is the only one of its kind on the market. You can make up to three or four meals in a single day, in two or three quart capacity dishes. The cooker works by beginning cooking as soon as the sun comes up and stops cooking as soon as the sun sets in the evening
Type: Solar Outdoor Camping Oven
Size and Weight: Size: 24 x 24 x 24 inches, Weight: 2.3 pounds
Temperature Range: Can reach up to 250 degrees Fahrenheit
Includes Cookware: No
---
HappyCamping Outdoor Solar Oven Set Review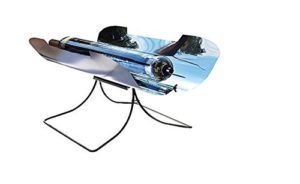 The HappyCamping Oven Set, which is similar to the GoSun Sport Portable Oven, is priced at $138, and offers a great deal of portability to those who enjoy camping, hiking, and engaging in wilderness adventures.
The oven boasts rapid cooking times, being able to cook a meal in only fifteen or twenty minutes, and can be assembled in just seconds, with a handy carrying case when the solar oven is folded up for storage.
The product is fuel free and clean, leaving no harmful chemicals or pollution for the environment. The product is vacuum insulated, so even in the wintertime, the oven will cook food.
Type: Solar Outdoor Camping Oven
Size and Weight: Size: 24 x 5 x 8 inches, Weight: 3 pounds
Temperature Range: Can reach 200-500 degrees Fahrenheit
Includes Cookware: Yes
---
My Vote for the Best Solar Cooker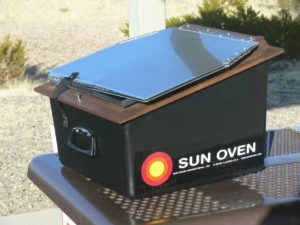 There are two solar ovens on the list that have my vote, and depending on the size of the family and amount of people that you need to feed, the one that I find the most valuable is the All American Sun Oven. This oven is larger in size and will allow you to do a variety of different things – including cakes, breads, meats, and vegetables.
The second oven that I would consider for the best solar oven is the GoSun Sport Portable Oven. The high temperatures, vacuum insulation, and ease of cleanup are great, but it is limited to what you can cook, and how much you can cook.
After careful consideration, I cast my vote for the All American Sun Oven, especially if you have a larger family. While it might not be as easily portable as some of the other options, it is a durable, large oven that can reach high temperatures and allow you to cook a great amount of food for your entire family.
If you are looking for either of these solar ovens for sale, check out the links above.