Bushcraft knives can make a big difference when you are out in the wilderness, whether you are planning on using the knife to cut away branches and weeds or if you are going to use the knife to filet salmon for dinner. Bushcraft skills are important to the camper, hiker, and wilderness enthusiast, and having a good, durable knife to rely on is important.
For those looking to put together a survival kit or bug out bag, a reliable, solid bush knife is imperative; they can do plenty of jobs that are of utmost importance while outdoors, and instead of having a bunch of different knives to carry around with you, a single knife can do a wide variety of tasks.
Since bushcraft knives are fixed blade knives, they do well in situations in which quick action is required, such as self defense or removing a plant that has looped itself around your leg and gotten stuck.
---
What is the Best Bushcraft Knife?
I this article, I will take a look at five of the best bushcraft knives on the market today, discussing pros and cons, listing price estimates, and at the end of each description will be a bulleted list that will allow you to compare them.
Bushcraft Knife Reviews
Here are a few of the criteria I will be looking at and things you should consider when purchasing any bushcraft survival knife.
Type: What type of product it is categorized as
Length: How long the blade of the knife is
Weight: How much the knife weighs
Blade Material: What type of steel material the blade is made from
---
Morakniv Companion Fixed Blade Outdoor Knife Review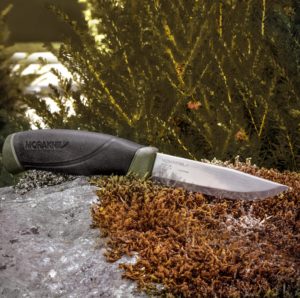 The Morakniv Knife is a well-price carbon steel bushcraft knife, coming in at only $11.
The knife, which is made in Sweden, comes with a limited lifetime warranty, which is a great selling point, and the low price makes it a great choice for those who are new to these knives and are looking for something to start out with.
The fixed blade knife has a patterned high friction grip, which makes the knife easier to hold, as well as adds a bit of comfort to the grip. The blade length, which is a 4.1 inch carbon steel blade, isn't too long to comfortably carry, which makes it perfect for those looking to take it on a camping or hiking trip, or to place into a survival gear kit.
Type: Fixed blade knife
Length: 4.1 inches
Weight: 3.9 ounces
Blade Material: Carbon steel

---
Schrade SCHF36 Frontier Full Tang Drop Point Fixed Blade Knife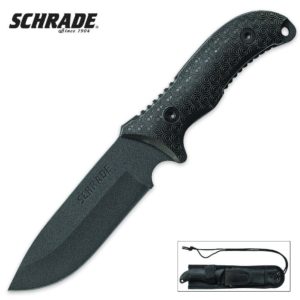 This Schrade blade is a moderately priced full tang bushcraft knife, coming in at $28.
It is a stylish knife with a black powder coated high carbon steel blade, which can hold onto dirt and debris a little more easily than a plan steel blade. However, the knife comes with a sheath that easily clips onto a belt or backpack, giving you easy access to your knife whenever the need may arise.
The blade of the knife is just over five inches, which makes it suitable for all kinds of uses without being overly cumbersome and difficult to maneuver. The handle is textured with a ring pattern, which allows for the user to grip the knife with ease even while wet.
As a bonus, this survival bushcraft knife also comes with a sharpening stone to sharpen the knife should it become dull.
Type: Fixed blade knife
Length: 5.05 inches
Weight: 1.6 pounds
Blade Material: Powder coated carbon steel

---
Benchmade Bushcrafter Knife Review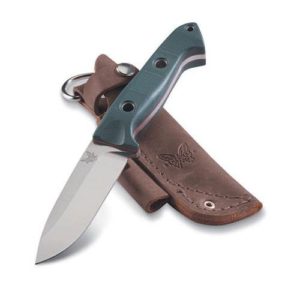 With a price tag of $183, the Benchmade Bushcrafter Knife is a knife for the serious wilderness enthusiast, backpacker, or hiker. While the high price tag might deter some, this knife is a solid and functional fixed blade knife that is well made and will get you through whatever adventures await you.
The knife has a stainless steel blade that is almost four and a half inches in length, and the light weight of the knife makes it easy to carry around with you on your belt. The blade is a high drop-point blade and has a stunning polished finish, and the knife comes complete with a buckskin leather sheath that has a D ring and a flint rod strap, as well as a green handle that has spacers and is held together with high quality titanium tubing.
The Benchmade Bushcrafter Knife is made in the United States, and the Bushcrafter knife is, in my opinion, the best Benchmade knife.
Type: Fixed blade knife
Length: 4.43 inches
Weight: 7.72 ounces
Blade Material: S30V stainless steel

---
StatGear 99416 Surviv-All Outdoor Knife Review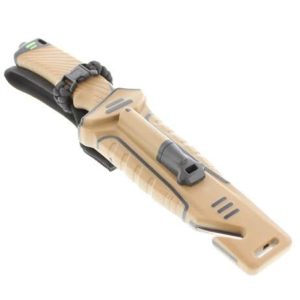 Priced at only $39, the StatGear is a great choice for those looking to purchase more than one knife, such as for those buying several to place in bug-out bags or survival kits. The lower price makes it a great choice for those who don't spend too much time outdoors, but still want a fixed blade knife to take on their adventures.
The handle of this survival knife is a textured rubber, which gives it a comfortable grip for frequent use. The belt sheath of the knife contains a fire starter rod and a cord cutter, which allows you to make smaller cuts without removing the knife from your belt, and the knife's sharpening stone is also located in the back of the sheath. The stainless steal blade is just over four inches, making it a good size for carrying.
Type: Fixed blade knife
Length: 4.25 inches
Weight: 13 ounces
Blade Material: Stainless Steel

---
SOG SEAL Pup Fixed Blade M37N-CP Review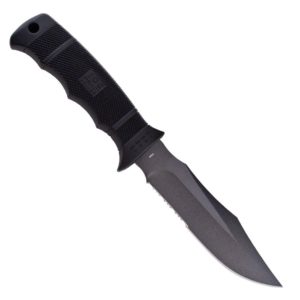 The SOG SEAL Pup Fixed Blade is a good bushcraft knife for all general uses – hiking, camping, and wilderness survival. The stainless steel blade, which is almost five inches in length, is powder coated and serrated slightly, which helps for cutting tougher items, such as tree bark, and is heat treated to make it more wear-resistant.
The tough nylon sheath, which is meant for rugged use, is MOLLE compatible, allowing you to use the loops to easily attach your knife to your bug out bag or backpack, or attach it directly to your belt loops. The handle of the knife is glass reinforced nylon, with a patterned grip to allow for comfortable and prolonged usage.
The knife comes with an accessory pouch and a limited lifetime warranty, which is a big selling point to those looking for good bush knives.
Type: Fixed blade knife
Length: 4.75 inches
Weight: 5.4 ounces
Blade Material: Powder coated stainless steel

---
My Vote for the Best Bushcraft Knife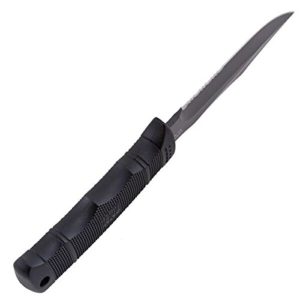 The bush craft knives listed above are great knives for a beginner looking to add a quality bushcraft survival knife to their wilderness supplies or survival kit. All six blades are quality tools, great for repeated use. But, as I always say on here, even I have preferences, so which is the best bushcraft survival knife?
I, personally use my bush knife all the time, so it is always worth it in my mind to go with a premium blade and get the best bush knife that money can buy. My picks would have to be the SOG and the Benchmade Bushcrafter.
While a beginning survivalist might find the price tag a little intimidating, but if you are serious about it and plan on using it regularly, they are well worth the cost. Not only are the knives and sheath well designed durable, and constructed from high quality materials, it can prove to be a great investment if you are going to use it often.
Campers and hikers who find themselves relying on their current knife frequently will most likely choose a higher quality bushcraft knife such as these two.
If, however, you are looking for a budget knife, the StatGear is a good "best bushcraft knife for the money" type blades. It comes with a few extra features that people looking for a more inexpensive blade might be interested in.